Personal Finance & Borrowing Management
We understand that people have little time to manage their finances as effectively as they would like. That's why at Red IFA we take the time to get to know you and your requirements, so that we can find the right solution to make your money work harder for you whatever your objectives are.
Careful planning can determine your financial well-being both now and in the years to come. In addition to sound and knowledgeable savings advice, Red IFA also has access to market leading research tools and can offer competitive mortgage solutions from the whole of the market.
Looking to chat to a real person? Get in touch now.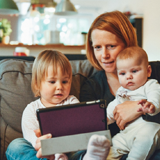 Help when buying a home