Staying safe online during and after Covid-19
Listed Under: News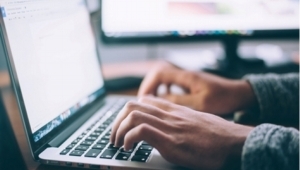 COVID-19 has been commonly associated with the phrase 'staying safe' in regards to physical health. However, many fraudsters are using the current climate to exploit and take advantage of the vulnerable, which is heightened by the global pandemic. There has been an increase in the number of cybercrimes and scams throughout the UK. Therefore, it is important to know certain tips and techniques you can implement into your life to reduce the risk of becoming a victim to online fraudsters.
The National Fraud Intelligence Bureau has received over 500 reports of coronavirus-related fraud since the start of the outbreak, with victims being tricked out of £1.6 million.
We have put together a list of 6 helpful tips to help reduce the risk of fraudulent activities occurring:
1. Do not open emails or email attachments you don't recognise. Scams can come in all forms whether that be by email, call or by text. However, a common method used by many fraudsters is through email. It is important you do not open emails that you don't recognise or those that look suspicious as they can infect your device and personal details can be stolen.
2. Be wary of who you answer your phone to. Whilst we've all been in lockdown it has become far easier for fraudsters to pick up the phone and manipulate others. Commonly fraudsters will use a fake name and impersonate Banks, debt collectors, law firms, financial advisers all in order to gain trust and manipulate personal details from you. Never share your card details or security information over the phone.
3. Make sure you have a strong password. The UK's National Cyber Security Centre concluded that over 23 million of the population have "1234567" saved as a password. Often a password this generic makes it very easy for fraudsters to access your accounts and steal personal details. Creating strong passwords and regularly updating them significantly reduces the risk and is relatively easy to do.
4. Be careful who you are donating to. We all want to do what we can during this global crisis however criminals have seen this as an opportunity. They have been targeting people with a number of scam emails and calls for donations to good causes, such as to help NHS workers. The e-mails have been very sophisticated and disguised to look like they are from the government and other organisations. If in doubt, check to see if the charity is a registered charity at Gov.uk.
5. Protect your investments. Scammers have used the uncertainty of the markets to cold call and advise you to invest, transfer or withdraw your investments. They will use scare tactics so be alert and do not allow yourself to be pressured or rushed. If somebody calls you out of the blue claiming to be able to give financial advice, check to see if they are registered on the FCA register.
If you are suspicious, report it by contacting the FCA consumer line on 0800 111 6768.
6. Protect your computer. With the increase in scams and cybercrimes it is vital to make sure your devices are protected as this reduces the risk of computer infection. Installing software such as firewalls and anti-spyware packages helps to reduce the risk of being hacked and your data misused.